Fall/Winter 2007 - Dallas Interiors Premier Issue
Lofty Concepts tops the list of showrooms and galleries in Leah Shafer's Home Front Design article highlighting the many resources for modern design enthusists in the Dallas Design District. Page 50-52.

March 2007 - The Radar Home
Toni Edwards writes of the many art and design opportunities along Dragon and Slocum streets in Dallas' Design District including a glowing report on the design-oriented, space-conscious and multitasking furnishings available at Lofty Concepts. Page 72.

January 2007 - The Radar Dallas NOW!
Editor Elise Anthony and Stacy Girard select 10 exceptional nature-inspired home and fashion products, including the Umasi Chair in Baltic birch available by special order from Lofty Concepts. Page 40-41.

2006 Holiday Gift Guide
The art of giving is a gift of Art from Dallas metal sculptor Manuel Sarmiento or Designer Paul Cash's new collection for Mango Mango both available from Lofty Concepts. The 2006 Holiday Gift Guide, a special section in the Dallas Voice.
December 2006 - Gift Giving Guide
F!D Luxe staffers couldn't resist the sculpted and stenciled glass dishes in orange and white at Lofty Concepts when compiling their 2006 Christmas Gift Guide. Page 24.

October 2006 - Designer's Choice Home Tour 2006
Contemporary Home with a Texas Vernacular in Devonshire features a Dallas home by designer Nancy G. Leib. Photos show two exceptional swivel chairs from Lofty Concepts' collection of Italian Leather upholstery. Pages 49-55.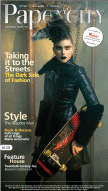 October 2006 - Retail Rap!
The editors of Paper City Magazine take special note of Lofty Concepts'
extraordinary offering of "furnishings inspired by everything from mid-century
modern to European contemporary" in the Retail Rap section. Page 4.

September 2006
D Home acquaints their readers with Lofty Concepts in an article describing the unique merchandise and urban design philosophy of store co-founder, Richard Wilson. Page 66.
June 2006 - Luxe loves...
Staff Writer Brittany Edwards introduces Lofty Concepts to FD Luxe readers
in her Mod Squad article. She highlights a "killer" walnut credenza from
B Mod and some cushy retro-inspired sofas from Nathan-Anthony. Page 4.

March 3-9, 2006
Lofty Concepts co-founder, Richard Wilson, is named a 2006 MBA All-Star by the Dallas Business Journal. The interview with Wilson details his experiences as a graduate business student at Dallas Baptist University and reveals plans for the opening of Lofty Concepts in the Dallas Design District.